---
Facebook recently admitted in court that its fact checks are merely third-party opinions. However, these "fact checks" are used in an anti-competitive and authoritative way throughout the social media platform to smear, defame, censor and limit the spread of information, while indoctrinating social media users with an official narrative surrounding covid-19, PCR tests, masks, isolation, contact tracing, lock downs, vaccines and mandates.
Now, private emails are beginning to surface showing how the federal government colluded with Facebook to coordinate propaganda campaigns in order to "facilitate decisions" about COVID-19 lockdowns and vaccine mandates. Facebook CEO Mark Zuckerberg was directly involved and offered to send "data reports" to Anthony Fauci, the head of the National Institute of Allergy and Infectious Diseases (NIAID).
Facebook has become Fauci's propaganda machine, manipulating the masses, forcing compliance
Big Tech has clearly allowed the federal government to install its own brand of propaganda to quash informed consent, restrict civil liberties, strip medical freedoms and violate body autonomy. The Biden regime even went public with their plans to eliminate "vaccine misinformation" online — referring to a list of scientists and doctors who were falsely accused as the "Disinformation Dozen."
Speaking to Fauci, Zuckerberg insisted, "I want to make sure you have all the resources you need to expedite the development of a vaccine." Fauci and the NIAID share joint ownership over the Moderna vaccine. In fact, before the World Health Organization declared a worldwide pandemic, the NIH was already working on a vaccine technology using "mRNA coronavirus candidates developed and jointly owned by NIAID and Moderna."
In the email exchange with Fauci, Zuckerberg wrote:
If we're looking at a prolonged period of tightening and loosening shelter restrictions around the country, then if there are aggregate, anonymized data reports that Facebook can generate to facilitate these decisions, for example, we'd be happy to do this and want to make sure we're prioritizing the right work. We've kicked off a symptom survey, which will hopefully give a county-by-county leading indicator of cases to inform public health decisions. If there are other aggregate data resources that you think would be helpful, let me know.
Zuckerberg offered to establish a long-term relationship with Fauci, exchanging data to promote vaccine propaganda and mandates. "I want to make sure you have all the resources you need to expedite the development of a vaccine. This seems like an area that's getting a lot of investment, but if there are promising approaches that aren't currently being worked on — or if there are areas that could use more resources — let me know and we'd be happy to look at funding them," Zuckerberg wrote.
Fauci LIED about his collusion with Zuckerberg, even though emails show intent to control information
Senator Marsha Blackburn questioned Fauci over Facebook's "Coronavirus Information Hub" and the various ways Fauci used the social media network to control information and censor people. But on June 9, 2021, Fauci responded on an episode of MSNBC: "I don't have a clue of what she just said, I don't have a clue of what she's talking about. I have no idea what she's talking about… I have no idea what she's talking about." Fauci denied having any involvement with Mark Zuckerberg and denied any attempt to control the narrative across the social media platform.
But in the actual email exchange, Anthony Fauci responded to Mark Zuckerberg, essentially accepting his offer.
Mark:
Thanks for the note and for your offer to help. I will think hard about ways that we may take you up on your offer.
Warm regards,
Tony
The two men had previously exchanged emails discussing Facebook's "Coronavirus Information Hub" and how best to control information about covid-19, masks, lock downs and vaccines. Since the exchange with Fauci, Facebook has deleted thousands of posts and group discussions, and limited the spread of certain topics related to covid-19 lock downs, masks and vaccines. The targeted and censored information includes everything that goes against Dr. Fauci's "expert advice" and includes information related to medical tyranny, abuse of children, covid-19 treatment options that have been withheld, and the forced medical experimentation and genocide that continues to take place around the world.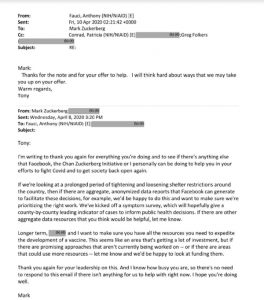 Sources include:
Submit a correction >>